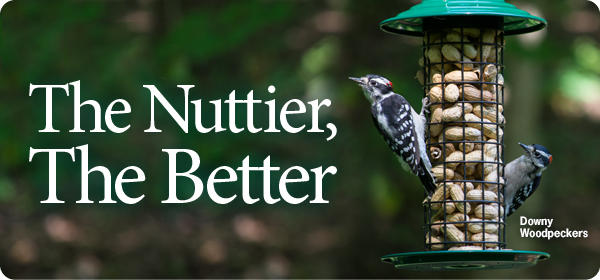 Attract Different Birds and Provide Energy with Peanuts
Peanuts are an excellent source of protein and fat for your birds, mimicking acorns and pine nuts that birds find in the wild. Peanuts are a great addition to the choices you offer in your yard.
Birds such as woodpeckers, titmice, nuthatches, chickadees, jays and more will frequent peanut feeders. Many of their visits will be to carry peanuts off and cache them for a later meal. We offer a variety of bird feeders that allow the birds to pull the peanuts from the feeder, and they can cling anywhere they want.
Buy a Peanut Hut Feeder; Get 2 lbs. of Peanuts in the Shell FREE*
*For DSC members only. Valid only at the participating store(s) listed. One discount per purchase. Not valid with other discounts or previous purchases. Offer valid 10/1/17 - 10/15/17.