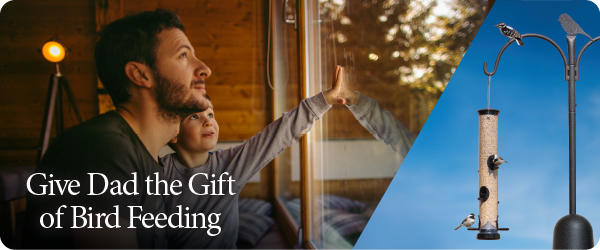 Unique Gifts for Dad. Convenient Shopping for You.
Father's Day is just around the corner and we have the perfect gift idea for you - give the gift of bird feeding! It's something that will bring him joy all year long.
Shop online at MyWBU Store for the best bird feeders, bird baths, bird foods and other nature gifts. We even have gift cards if dad would rather shop for himself.
Your order will be handled by the same staff you already know from shopping in our store. We're here to help you make this Father's Day special.
FREE Store Pickup -or- FREE Shipping on Orders of $75 or More*
*Valid only by shopping online at MyWBU Store.
Order ahead for free pickup at the store or get free shipping on orders over $75 that ship within 150 miles of the store. Orders that ship to further destinations will incur a shipping charge shown at the time of checkout. Daily Savings Club points will accrue for online purchases when you register at MyWBU Store with the same email address associated with your DSC membership.